Prairie State Energy was founded by a blend of fellow dealers and some key specialized industry personnel. As part of our diligence, we surveyed many owners and listened to their complaints about how fuel suppliers seemed to be only concerned about the fuel supply, and how they really wished they had a true partner in the business. Is your supplier focused only on the fuel and brand? What have they done to help you identify additional profit opportunities in store, with alternative fuel products, or car washing? Do they even own and operate any stores?
At PSE, one of our key objectives is to help you maximize your site's profitability – not just your fuel volume. Whether you're looking to build a dream site, undertaking a remodeling project, freshening up the image, or just looking to change your store's offering, there are many ways we've helped our clients through the years. Here are just a handful: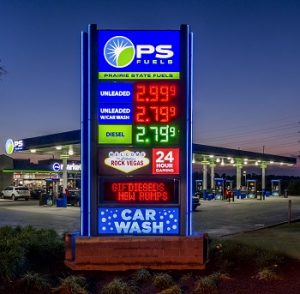 New site selection, NTI development
Site layout and design assistance to maximize profits
Equipment evaluation, layout and design assistance
Major and minor store remodeling
Branded or Unbranded packages and programs, which is best for your store?
Financial assistance for upgrades
Co-Brand partnership evaluation
Solicit fleet accounts
Website and Phone Application promotions
TV and Media Player promotions
Vendor supported programs and events at your location to drive sales
Customer appreciation events at your store
Promo scheduling
There are many customers who deeply appreciate our efforts. Please view Success Stories to hear more about how we have helped them. Please note that these services are provided on a complimentary basis for our existing customers.